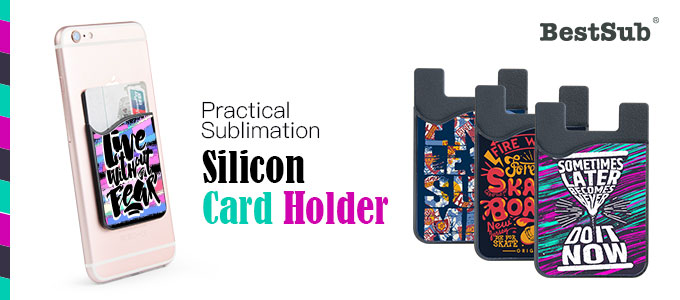 BestSub's sublimation card holder with silicon material and practical design makes it ideal for every cell phone! It features a flexible, slim design and a classic black color. It can be stuck to your phone or phone cover solidly and removed easily with 3M double side adhesive sticker. The sublimation silicon card holder provides a home that can be stretched to hold standard size credit cards, ID cards and business cards as well as tickets, cash, ear buds and more! Securely hold 2 cards or just 1 card.

Any photo can be sublimated on the white fabric part which is also thoughtfully designed to be a removable screen cleaner, so it is very easy to personalize the card holder. Simply pick up your phone and go!
Item Name: Black Silicon Card Holder
Item No.: BKT02
Size: 5.7*8.6cm
Carton measurement: 500*280*200mm
Weight: 14.5kg/ctn
Packing: 1000pcs/ctn
Printing area: 5.2*6.4cm
Referential printing parameters: 180℃, 120S
By JTrans® Mate Press / JTrans® Clam Press
Features:

1. Leading market by qualified service;
2. Fashionable design with vivid sublimation printing effect;
3. Outstanding as personal gifts and promotional gifts or for commercial use;
4. Decades expertise;
5. One-stop service at BestSub.

Like BestSub on Facebook, Twitter, Youtube and Wechat.
For more information and free tutorial, please visit: www.bestsub.tv.

Related Products:
..