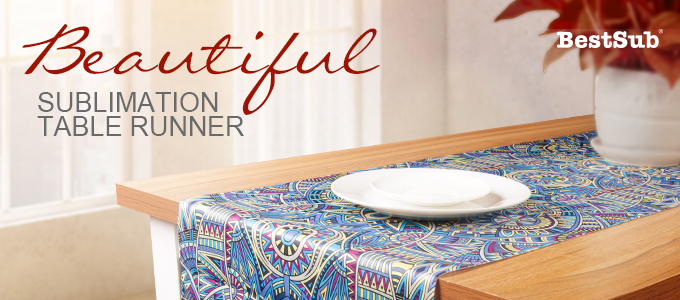 BestSub's beautiful sublimation table runner in modern style adds a luxurious touch to your table. This table runner is durable and will last for many years to come. It protects your table, perfect for any tabletop. The sublimation table runner is not only suitable for decorating most rectangular, round and square dining tables, but can also decorate tea tables, shoe cabinets, TV stands, beds, etc. You can give this item as an amazing gift at housewarmings, holidays and birthdays.

Add a pop of color or your favorite image to the trendy sublimation table runner and it will be a wonderful accessory to your home decor. It is the perfect table runner you are looking for!
Item Name: Table Runner (14 in. x 72 in.)
Item No.: TBR35182
Material: polyester cloth
Size: 14 in. x 72 in.
Printing area: 35.56*182.88cm
Referential printing parameters: 180℃, 120S
By JTrans® Mate Press / JTrans® Clam Press
Features:

1. Leading market by qualified service;
2. Fashionable design with vivid sublimation printing effect;
3. Outstanding as personal gifts and promotional gifts or for commercial use;
4. Decades expertise;
5. One-stop service at BestSub.

Like BestSub on Facebook, Twitter, Youtube and Wechat.
For more information and free tutorial, please visit: www.bestsub.tv.

Related Products:
..