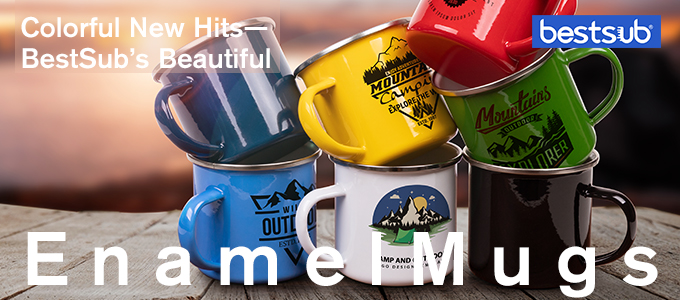 Are you a fan of BestSub's enamel mugs? Here come our new hits—the enamel mugs with six beautiful colors! Come and check them out!

These new enamel mugs are a perfect combination of beautiful colors and charming vintage design. Made of stainless steel with enamel finish, they are light and durable and can make a great way to serve up your favorite drinks at home, office, or when you are traveling, camping, or hiking,

For personalization, these adorable mugs can be imprinted with images by sublimation printing. The mugs with the amazing design will add some attractive vintage flair to your house or make perfect personalized gifts for your family and friends. Click your mouse to get them now!
Item Name: 12oz Enamel Mug w/ Flat Bottom-Red
Item No.: TC03NR
Material: Enamel and stainless steel
Size: 8*8.6cm
Printing Area: 6.5*19cm
Referential printing parameters: 185℃, 15 seconds
By JTrans® Easy Mug Press
Note: Due to the retro design of the enamel cup, enamel paint loss is a normal phenomenon.
Item Name: 12oz Enamel Mug w/ Flat Bottom-Black
Item No.: TC03NK
Material: Enamel and stainless steel
Size: 8*8.6cm
Printing Area: 6.5*19cm
Referential printing parameters: 185℃, 15 seconds
By JTrans® Easy Mug Press
Note: Due to the retro design of the enamel cup, enamel paint loss is a normal phenomenon.
Item Name: 12oz Enamel Mug w/ Flat Bottom-Dark Blue
Item No.: TC03NDB
Material: Enamel and stainless steel
Size: 8*8.6cm
Printing Area: 6.5*19cm
Referential printing parameters: 185℃, 15 seconds
By JTrans® Easy Mug Press
Note: Due to the retro design of the enamel cup, enamel paint loss is a normal phenomenon.
Item Name: 12oz Enamel Mug w/ Flat Bottom-Green
Item No.: TC03NG
Material: Enamel and stainless steel
Size: 8*8.6cm
Printing Area: 6.5*19cm
Referential printing parameters: 185℃, 15 seconds
By JTrans® Easy Mug Press
Note: Due to the retro design of the enamel cup, enamel paint loss is a normal phenomenon.
Item Name: 12oz Enamel Mug w/ Flat Bottom-Light Blue
Item No.: TC03NLB
Material: Enamel and stainless steel
Size: 8*8.6cm
Printing Area: 6.5*19cm
Referential printing parameters: 185℃, 15 seconds
By JTrans® Easy Mug Press
Note: Due to the retro design of the enamel cup, enamel paint loss is a normal phenomenon.
Item Name: 12oz Enamel Mug w/ Flat Bottom-Yellow
Item No.: TC03NY
Material: Enamel and stainless steel
Size: 8*8.6cm
Printing Area: 6.5*19cm
Referential printing parameters: 185℃, 15 seconds
By JTrans® Easy Mug Press
Note: Due to the retro design of the enamel cup, enamel paint loss is a normal phenomenon.
Features:

1. Leading market by qualified service;
2. Fashionable design with vivid sublimation printing effect;
3. Outstanding as personal gifts and promotional gifts or for commercial use;
4. Decades expertise;
5. One-stop service at BestSub.

Like BestSub on Facebook, Twitter, Youtube and Wechat.
For more information and free tutorial, please visit: www.bestsub.tv.

Related Products: