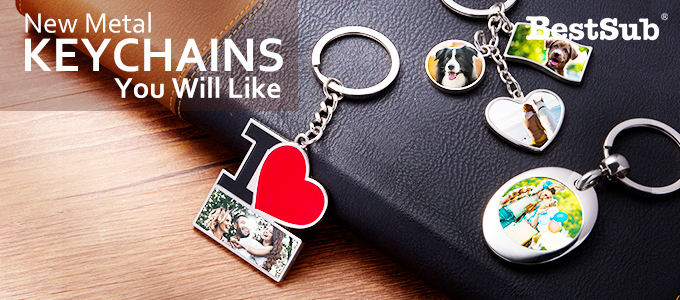 This time BestSub has launched three new keychains for you to choose. Come and check it out!

They come in different styles and with different functions. The one with a red heart and the one with three pendants can be your fashionable accessories, while the one with a coin-sized insert for unlocking shopping cart can be a convenient must-have.

For personalization, they all have plenty of printing area for you to create by sublimation printing. They are perfect for being printed with photos of your family, best friend, and pet, and taken with you everywhere. Have a look when you are missing your beloved ones and the best time you spend together.
Item Name: Keychain with Red Heart (I Love)
Item No.: YA131
Material: Zinc alloy, with Red Heart.
Size: 4.2*4.6cm
Printing Area: 1.5*3.7cm
Referential printing parameters: 180℃, 45 seconds
With the image face down by JTrans® Mate Press / Clam Press
Item Name: Keychain with Pendant (Flag, Round, Heart)
Item No.: YA132
Material: Zinc alloy, with 3 pendant, flag, round and heart.
Printing Area: 3.2*11cm
Referential printing parameters: 180℃, 45 seconds
With the image face down by JTrans® Mate Press / Clam Press
Item Name: Trolley Coin Keyring
Item No.: YA130
Material: Zinc alloy, with alu insert for sub printing
Printing Area: φ2.9cm
Item Size: 3*8.5cm
Referential printing parameters: 180℃, 45 seconds
With the image face down by JTrans® Mate Press / Clam Press
Features:

1. Leading market by qualified service;
2. Fashionable design with vivid sublimation printing effect;
3. Outstanding as personal gifts and promotional gifts or for commercial use;
4. Decades expertise;
5. One-stop service at BestSub.

Like BestSub on Facebook, Twitter, Youtube and Wechat.
For more information and free tutorial, please visit: www.bestsub.tv.

Related Products: