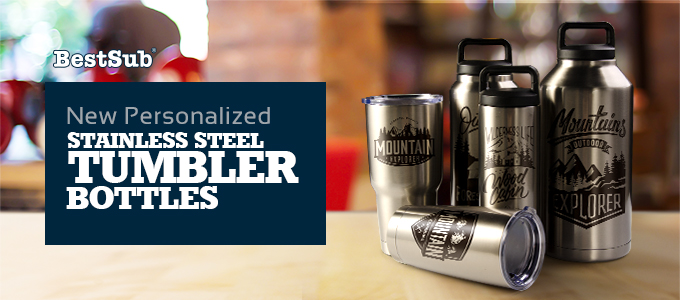 Have you considered getting a new personalized stainless steel tumbler or bottle for every day drink? Now BestSub can provide the healthy and practical solution for you! There are 18oz, 20oz, 30oz, 36oz and 64oz bottles for your option. Besides, we can provide you with tumblers without coating. We also have neoprene insulators in different sizes for protection for you to choose from.

The stainless steel tumblers can keep drinks cold or hot for longer time. The sleek and attractive design makes them eye-catching for a modern day tumbler. Besides, their sweat free design with no condensation keeps your hands dry. These bottles are reusable for lifetime. They are perfect for team gifts, office gifts, birthday gifts and holiday gifts.

The new stainless steel tumblers come without stamped branding, providing a sleek untarnished look, so you can customize your own one by sublimation printing, laser printing, cutting plotters and vinyls. Take BestSub's personalized tumblers to sports events, tailgating, holiday gatherings, the lake, beach, road trips, campfires, even your office!
Like BestSub on Facebook, Twitter, Youtube and Wechat.
For more information and free tutorial, please visit: www.bestsub.tv.